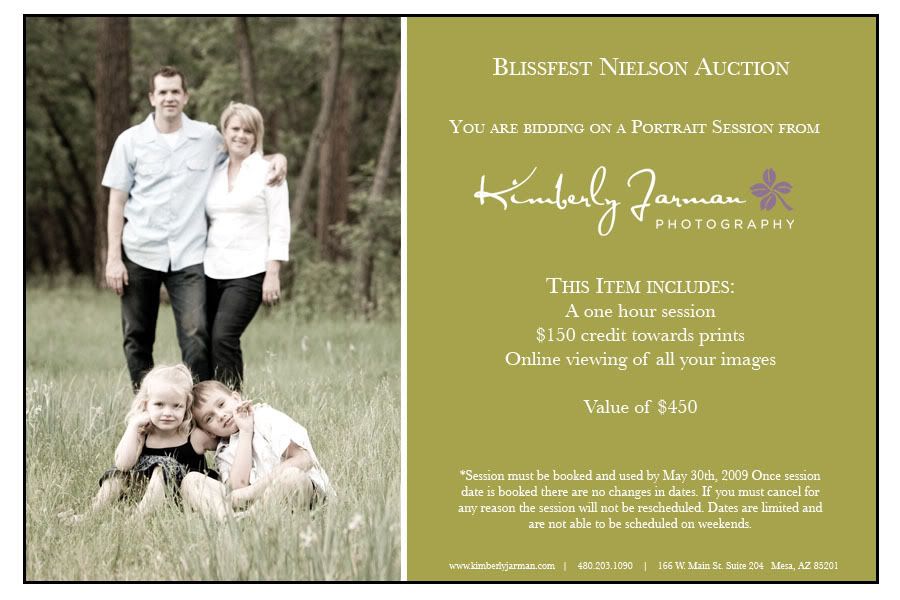 I really believe that it is important to support and help our community and I really try to do as much as I can to help out.
Dan and Kristin Albers, from Domestic Bliss, contacted me awhile back to let me know about a family that was in a horrible plane crash in August. They have a ton of medical expenses and need the community's help in order to recover from this accident.
On October 18th, Domestic Bliss of Mesa Arizona, will be hosting a Nie Recovery Carnival Style Fundraiser as part of their Fall Blissfest. Part of the festivities will include a silent auction.

They asked if I would help out and donate something for an auction and of course I said that I would help out.
I am donating a portrait session and a $150 credit for prints. If you would like to bid on this all you have to do is go to the Nielsen Auction Blog and bid on the session. This item is worth $450 so be as generous as you can to help this family! I will not be taking any of the money… all money will be paid directly to the Nielsen Fund.
I will also have a few more auctions that I will be doing to help other families this fall. Please stay tuned for more information about them.

———
A little more about the Nielsen Family
On Saturday, August 16, 2008, Stephanie Nielson was in a plane crash with her husband, Christian Nielson, and his flight instructor, Doug Kinneard, near St. Johns, Arizona. Doug Kinneard passed away soon after arriving at the Maricopa County Hospital.

Christian & Stephanie remain in critical condition at Maricopa Burn Center. Christian has sustained burns on over 30% of his body. His wife Stephanie's body was burned over 80%.

To read more about the Nielsens please go to their blog.