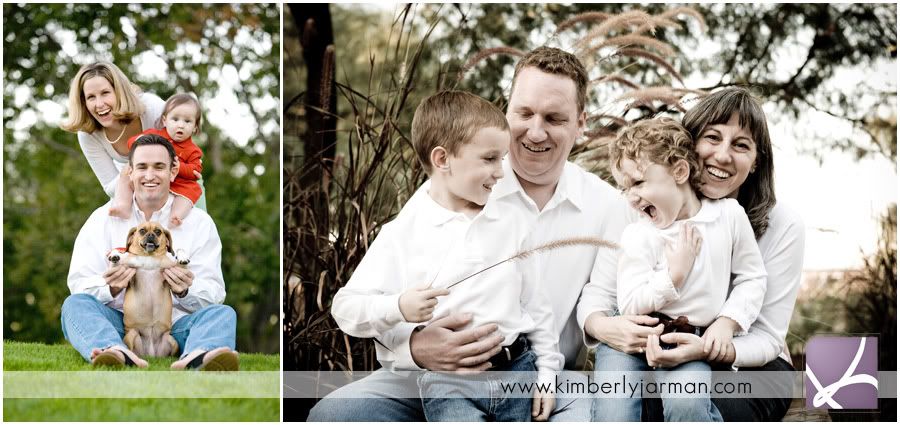 I was at Home Depot yesterday and realized that they already have the Christmas trees and decorations out. It always surprises me how early they get those out, but then I realized in all reality 2 months really isn't that long, especially considering how busy the holidays get. It then made me start thinking about all the things that I need to do to make sure that this year I actually decorate for Christmas. The list is already pretty long!! I better start soon!
One of the things on my list is Family Christmas Pictures. Every year we do some fun type of photo session and send out cards with the best pictures. Sending out fun and creative Christmas cards with pictures of my family are one of my favorite things to do during the holidays. I love receiving fun cards too! However, I believe the key to a good Holiday Card is the picture… those are the cards I keep on my fridge year round.
This time of year is busy and it's hard to schedule time to get that great picture, so I am announcing a fun thing this year, Holiday Mini Sessions.
Holiday Mini Sessions are a great way to capture some really fun pictures of your family in a short time for a little less than you would normally spend on a full family session. They include creative and different Holiday cards that will be sure to make it on every fridge that you send them to!! We will have 2 different dates available for you to choose from and each session will be 25 minutes long.
What is the cost and what is included?
Cost: $225
Includes:
25 minute session to capture as many images as we possibly can, both traditional and casual

Your choice of one digital file or 24 foldable Holiday cards (created by us). Additional cards are available for purchase if you need more than 24.

One facebook image for each image you purchase. Facebook images will be watermarked with the Kimberly Jarman logo. The image will be the same one you purchased.
The digital files, other than the facebook images are not available for sale. You must purchase a print to receive it as a facebook image.
The $225 is due at the time of booking. Please arrive 10 minutes before your scheduled time to ensure everyone is ready. Make sure everyone is your party is dressed and ready to go. We will not be able to go over our scheduled time.
Parents, please make sure your kids are fed and ready to go. Feel free to bring any items that will help kids relax and have fun… bribery with goldfish crackers or other treats is absolutely allowed and encouraged!! Also feel free to bring a special toy that will help them if needed.
Your images will be ready to view 2 weeks after the sessions. You will need to schedule a time to come into the studio to view your images and choose your card choice. At this time if there are other images you would like to purchase you can do so.
What are the dates for the sessions?
Dates: November 7th and November 22nd
November 7th – Off the Beaten Path – A Ghost Town (Old Buildings and Cars and something totally different and unique – Very Arizona)
November 22nd – Downtown Scottsdale at the Civic Center (grass, trees, and some fun old buildings for different textures)
Times: (these are the times for both dates)
2:00 – 2:25 (November 22nd booked)
2:30 – 2:55
3:15 – 3:40
3:45 – 4:10
4:15 – 4:40
4:45 – 5:10
What Holiday Mini Sessions are:
A great time to capture some priceless pictures of your family.
A great time to get fun and creative with your pictures. To do something different and fun.
A short session geared to capture at least one phenomenal picture to use for your Holiday Cards.
A great way to get some great prints for your walls if you've been wanting to fill those empty spaces with fun pictures.
What Holiday Mini Session are NOT:
A full blown session with multiple outfit changes or locations
A time to do multiple different sets of family (i.e. Having your extended family come out and do different group settings all in 30 minutes. We won't have enough time to do something like this, but would love to do this for you in a normal session time.
A senior session, baby session, or engagement session (All of these sessions take much more time than we can fit in 25 minutes. I encourage you to contact us for more information on these types of sessions!!)
Sessions will go fast as there are only 6 sessions per day. To book your session please email me.